Updated: Jensen Ackles and Danneel Harris Are Now Married
Sure, word got out last night on Twitter that the long anticpated wedding was today, but Ted Casablanca at eOnline actually managed to get details.  Dallas at sunset.

As soon as more information, pictures, etc leaks out I'll share it here, but it in the meantime we at The Winchester Family Business wish the happy couple a special and memorable wedding day and a long happy life together.  Congratulations Jensen and Danneel!!!
Danneel Harris & Jensen Ackles Get Married Tonight!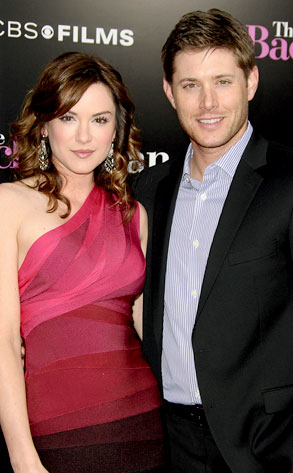 Jason LaVeris/FilmMagic
Hear that, kiddos? That's the sound of wedding bells ringing—or can you not hear them
Read more: http://www.eonline.com/uberblog/the_awful_truth/b181076_danneel_harris_jensen_ackles_get.html#ixzz0o2zxQXHR
Here's an update from JustJared.  It includes two photos from the wedding.
http://justjared.buzznet.com/2010/05/15/jensen-ackles-wedding-pictures/
Jensen Ackles' Wedding Pictures with Danneel Harris
Here are the first wedding
pictures of Jensen Ackles and Danneel Harris, which were taken earlier today (May 15) in Jensen's hometown of Dallas, Texas.
JustJared.com exclusively broke the news of the couple's engagement back in November.
Both star on shows on The CW. Jensen, 32, is a regular on Supernatural and Danneel, 31, stars one One Tree Hill, which is likely to be renewed.
No pics of Jensen's co-star Jared Padalecki have turned up yet.
Congrats to the happy couple.