Supernatural Weekly World News July 26, 2020
Supernatural in the news this week.
Catching Up with Current and Former Cast Members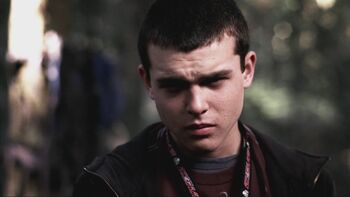 Felicia Day (Charlie Bradbury) was interviewed in the Movies That Changed My Life podcast
One of the coolest short films I was so excited to work on is screening at @fantaspoa 2020 next week! Only available to Brazil for now so to all you Brazilians out there, I hope you can tune in to watch Logan Lee & the Rise of the Purple Dawn!
Eu te amo Brazil! ❤️?? https://t.co/TOQblNj1wJ

— Osric (@OsricChau) July 17, 2020
Lauren Tom (Linda Tran) is in the PS-4 Game Ghost of Tsushima
I've had the chance to play a #BadAss twice in my career: As #MrsTran in #supernatural & now as #ladymasako in #ghostoftushima, out today. I'm not sure which was more fun! Check out some scenes here: #https://www.youtube.com/watch?v=LFZL4hx9EwY&feature=youtu.be&t=5797 #sograteful pic.twitter.com/zMDY9QLKtc

— Lauren Tom (@LaurenTom9000) July 18, 2020
Cut scenes here
James Patrick Stuart is back doing voice work for Disney's Amphiba
My character of "One-Eyes Wally" is back as are new episodes of "Amphibia", Saturday's on the Disney Channel. Very, very proud of this clever and irreverent show from the mind of @Radrappy. Check it out!!! pic.twitter.com/U7CoPtwurS

— James Patrick Stuart (@japastu) July 24, 2020
Rick Springfield (Lucifer/Vince Vincente) has a new single.
??FINAL HOURS! ??

We're bringing the summer festival right to your living room. Join the #GISH Hunt for a wild, weird adventure like no other — one that actually helps YOU brighten up the world. https://t.co/zuXjylOibi pic.twitter.com/1f6pbudODk

— gish (@GISH) July 22, 2020
Thank you for the well wishes everyone! ?
For my birthday I'm gonna spend my day hanging out on twitch playing FF7 remake while talking about wonderful organizations like @Blklivesmatter @NAACP_LDF @CAPEUSA and help raise funds for them ❤️
Starting 12 PSThttps://t.co/nU8ZJs0yOg pic.twitter.com/75q5AF2By3

— Osric (@OsricChau) July 20, 2020
Happy Birthday, Moose. https://t.co/Bc0JfLBkb8

— KANSAS (@KansasBand) July 19, 2020
Podcasts And Video Series
Hey hey everything's great..
Theres an all new #AMGIRS.
On all your podcast platforms. @dicksp8jr https://t.co/nmWX21z6zI

— Rob Benedict (@RobBenedict) July 21, 2020
See Sebastian Roche on Cameo
Very excited to share this with you guys, we can have amazing conversations in 10 minutes https://t.co/5XyUljSPHq pic.twitter.com/3Fq2r95VP7

— Sebastian Roché (@sebroche) July 23, 2020
Ty Olsson is also on Cameo
Check out this Cameo: https://t.co/6IjpX02iu4

— Ty Olsson (@TyOlsson) July 21, 2020
In this week's Writer's Q&A Sera Gamble talks to Melissa Rosenberg.
Hit 'Next' for more news.