Supernatural Bits & Pieces October 14, 2017
Supernatural in the news this week
Catching Up With Current and Former Cast Members
Adrianne Palicki (Jess) was interviewed this week.
Kathryn Newton (Claire Novak) was in the news this week.
Kim Rhodes (Jody Mills) was interviewed by SpeakUp on CJSF 90.5

In the wake of the Harvey Weinstein revelations two of our alumni spoke out.
Rachel Miner (Meg 2) wrote
Interview with Jensen Ackles (thanks to
SpnUK
for the tip)
.@JensenAckles talks to @ PIX11 about his work on 'Supernatural' and more.
(in NYC) https://t.co/69ndn8v9iB pic.twitter.com/UjkbBtUwgd

— jensen ackles. (@JAcklesCrew) October 12, 2017
We have now had both Jared and Jensen give interviews on major outlets. See Jared on
The Jimmy Kimmel Show
here
and Jensen on Kelly and Ryan
here
.
The restricted, official trailer for Kathryn Newton's project The Blockers is now available.
Watch the RESTRICTED trailer for #BlockersMovie starring #LeslieMann, @ikebarinholtz & @JohnCena now! pic.twitter.com/DiccL6HFDz

— Blockers (@BlockersMovie) October 12, 2017
A.J. Buckley (Ed Zeddmore) got good news on his series Seal Team
See
the preview
for David Hayden-Jones's (Mr. Ketch)
The Bramble House
.
Louden Swain is hosting a Stage-It concert
Join us @Stageit Oct 20th @ 12pm PST to help us celebrate 20 years of Louden Swain! Tix avail here: https://t.co/4bq9zqtz17 #20YearsOfSwain

— Louden Swain (@LoudenSwain1) October 11, 2017
#IfICouldTellYou How strong you really are. And how much I love being a part of this https://t.co/nDzTTviVgw pic.twitter.com/EciKipGfyD

— Rachel Miner (@RachelMiner1) October 14, 2017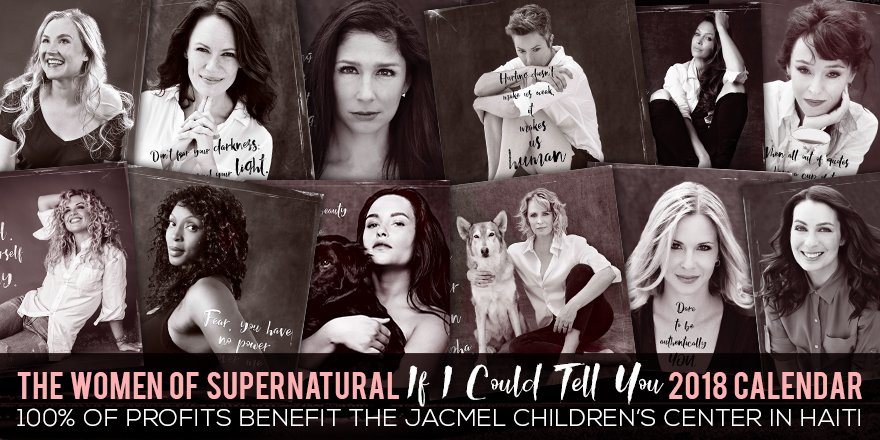 This limited edition calendar features the lovely ladies of Supernatural: Rachel Miner (Meg #2), Ruth Connell (Rowena), Kim Rhodes (Jody Mills), Briana Buckmaster (Donna Hanscomb), Felicia Day Charlie Bradbury), Shoshannah Stern (Eileen Leahy), Emily Swallow (Amara), Alaina Huffman (Abbadon), Katherine Ramdeen (Alex), Samantha Smith (Mary Winchester), Lisa Berry (Billie the Reaper), and Amy Gumenick (Young Mary Winchester).
Misha Collins has a new campaign for Random Acts
Jared and Jensen weren't the only ones who got noticed by Entertainment Weekly
Who's that? Us?? In @EW ?? Well HEY NOW. #kingsofcon #supernatural @dicksp8jr @RobBenedict pic.twitter.com/VkL01thQAu

— Kings of Con (@KingsOfCon) October 13, 2017
Travis Aaron Wade took part in the Actors Panel at the San Diego Film Fest
Thanks to our moderator, Jeffrey Lyons, & our panelists for the Actors panel!@TravisAaronWade, #JackKesy, @Blake_Jenner & #GabrielOlds pic.twitter.com/HRgySzmc1z

— San Diego Film Fest (@SDFilmFestival) October 7, 2017
San Diego Film Festival Red Carpet ??? #sandiegofilmfestival #redcarpet #films #movies #moviestar #travisaaronwade pic.twitter.com/8kcblGVfYy

— Travis Aaron Wade (@TravisAaronWade) October 10, 2017