Page 2 of 2
We fans appreciate the actors of Supernatural and we show them our love!
This project and collection of letters is officially being dubbed "PittCon 2017: The Jared Padalecki Project"
I'm going to list some guidelines below, as I've gotten a ton of questions about it.
1. Use the subject "Letters to Jared" when you send the email. This will help me sort through them, considering this is my personal email account and I do receive many emails there daily.
2. The letters must be sent via email. If you send them to my inbox (either my ask or my submit), I will not use them. Sorry, it's just way easier for me to have them all in one place.
3. If you choose to be anonymous in your letter, please state that first and foremost in your email. (before starting your letter)
4. You can include a photo of yourself sporting some AKF clothing if you so choose! This also applies to anyone who has already sent a letter, just shoot me another email containing your picture (still using the same subject line) and I'll put them together.
5. Subject matter should be positive! I do not want these letter to bring Jared down or put him in a bad place. We are thanking him, not trying to push our issues on him. *I do not want to read the letters, as I respect your privacy, but if I feel I have to because of people not following this guideline, I will.*
6. Length of the letters should not be an issue, as I don't foresee people telling their whole life stories, but I'll limit it to one page in a Microsoft Word/Google document.
7. Deadline for sending the letters is August 10, 2017! PittCon is one month after that, so that should give me enough time to put everything together!
**If you have any questions regarding the project or the letters, please ask me by sending an ask or a private message! I can't wait to hear from all of you :)
Jared isn't the only star getting recognition. A French Fan will be presenting a tribute to Matt Cohen at this year's Darklight Convention
Je vous rappelle que je m'occupe du fanbook de Matt Cohen, je lui remettrai à la Dark Light de chez People Con les 29 et 30 Avril ! #RT plz pic.twitter.com/3nzshikgQ1

— Camille Williams (@HardSquare) March 30, 2017
Fans are also reaching out to Rachel Miner, to show their appreciation!
Finally,
SuperWiki
organized a tribute to one of the most important characters on our show, The Impala!
Of course, one of the most active parts of fandom is work for charity.
Castiel's Angels
is very active in raising funds for the various charities our cast supports.
#supernatural #spnfamily Follow us on Facebook for details! pic.twitter.com/JoBjERSD77

— Castiels Angels (@CastielsAngels7) March 13, 2017
@AlainaHuffman @JulianRichings @dicksp8jr Planning a fundraiser in July! Wish us luck guys #spnfamily @OfficialBrianaB pic.twitter.com/PDDQtr8Bfa

— Castiels Angels (@CastielsAngels7) March 14, 2017
Charity updates : @RobBenedict @RuthieConnell Florida team is planning a charity run for MyHopeChest and National Stroke. Wish us luck guys!

— Castiels Angels (@CastielsAngels7) March 11, 2017
Several groups have combined their artistic talent and charity.
The Random Art Project raises money for Random Acts by selling their artwork
During the course of 2017, this store will be selling artwork to raise money for the charity RandomActs with 100% of the net proceeds being donated to the charity. The images are all lovingly created by me, in traditional media (mostly pens and watercolours), and all artwork for sale are originals. But here's the twist. Each image will be created in a single day. Every day a new artwork will be available for purchase - Kind of like Inktober where you do a drawing every day for a month, only this is going to last a year. The aim is to challenge myself to explore new ideas and actually get something down on paper instead of vague images floating around in my mind, while also raising some money for charity (hopefully).Obviously there's a limit on what I can achieve in a day, but hopefully you'll find something you like and choose help a good cause.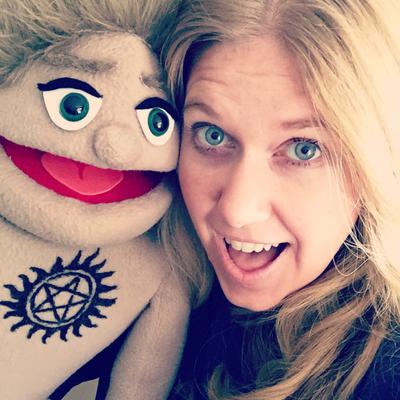 Littlemisskirst is donating two of her wonderful puppets to be auctioned off for charity at this year's AHBL convention.
Proud to be donating some awesome #Supernatural puppets 2 be auctioned off for a great cause at #AHBL8 ❤️@TheHUBBUB pic.twitter.com/RZ5K8OoUJf

— littlemisskirst (@CursedCreations) April 21, 2017
Carry On
is running a series of auctions to benefit Random Acts. Our cast has offered various items for auction including a Skype session with Ty Olsson, various items autographed by Misha Collins, Jensen Ackles, Briana Buckmaster and Kim Rhodes, Jared Padalecki, Matt Cohen and others. The auction ends Sunday, April 30 at 3:00 pm, so there isn't much time. You can check out the items for auction at the
Carry On shop on Ebay
, or check out their
Twitter Timeline
for details.
In celebration of the first five years of the DePaul Pop Culture Conference, this book collects essays, thoughts, and contributions from participants over the past half decade. From Doctor Who to Star Trek, the works of Joss Whedon to Supernatural, and of course the fifth anniversary event on Harry Potter, enjoy the 100 or so essays about the importance of Pop Culture in our lives. With keynote essays from Robert Shearman (Doctor Who), Brannon Braga (the Star Trek franchise), Robbie Thompson (Supernatural), Lisa Klink (Star Trek Voyager), Cheryl Cain (Firefly), and Alanna Bennett (Harry Potter)!
Our own Nightsky reports on the
Supernatura
l conference in this book. FarAwayEyes also added a chapter on the
Supernatural
conference as well as the
Star Trek
conference. We have a chance to see our fandoms through the eyes of a variety of people from all walks of life. The book was announced April 18 and is available
here
.
As I am reminded each month, we have so many talented, giving people in this fandom. I'm proud to be a part of it!
Did we miss any Supernatural fandom projects? Are there any in the works that you'd like to publicize? Contact us via Twitter, Facebook, Instagram (buttons at the top of this page) or a comment on this article! Also, we'd love to hear if any of you have participated in these projects!