Supernatural in the news this week.
Catching Up with Current and Former Cast Members
The joys of being a known actor
Nothing says "you've arrived" like your local news doing a piece on you while brutally mispronouncing your name multiple times. It's SPELLED like the number eight, it's PRONOUNCED like the number eight, & THERE'S NO "R" IN IT. Nice try, Channel Firve. @NC5 https://t.co/M14OWzs1nL

— Richard Speight, Jr. (@dicksp8jr) March 9, 2019
Amanda Tapping (Naomi) is Biting the Bullet
Get Rob Benedict's (Chuck/God) movie 30 Minutes From Nowhere now
#30milesfromnowhere available on DVD & Digital tomorrow, March 5! "Offbeat, witty, and completely entertaining"! (Tomatometer-approved critic, @ddelplato, @floatedmagazine) Photo by @AlbertLOrtega / Getty Images pic.twitter.com/bWl6Ef8Wlw

— 30MilesfromNowhere (@30Milesfilms) March 5, 2019
Checkin in with a friendly reminder that you have 2 weeks to join @dicksp8jr for his debut album @Kickstarter https://t.co/T5UNBtjJ8N

— Jason Manns (@jasonmanns) March 1, 2019
Fans near Hollywood can see Felicia Day (Charlie Bradbury) in her new project Voyage to the Stars
Guess what? We're doing a LIVE EPISODE!!! Come join us @HollywoodImprov on April 7th at 7:30pm! Get your tickets on @TicketWeb https://t.co/BtI1LDZguw pic.twitter.com/xJ2FTJwY0T

— Voyage to the Stars (@VTTSofficial) March 7, 2019
David Hayden-Jones' (Arthur Ketch) new Hallmark movie premieres this weekend
After enduring their own heartbreak, Jack @DavidHaydnJones & Lucy @JodieSweetin weren't searching for love. Will they find it with one another? #LoveUndertheRainbow premieres TONIGHT at 8pm/7c. ? pic.twitter.com/vjKLtt1uKE

— Hallmark Channel (@hallmarkchannel) March 9, 2019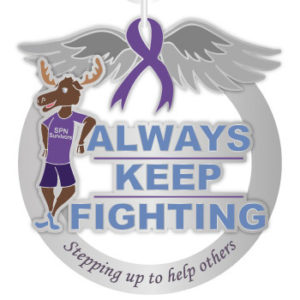 @CarryOn_SPN @SPNFamiIy @WinFamBusiness RT? Registration is open for our #March4Hope19 #AlwaysKeepFighting for #mentalhealth Fundraiser that will help us start conversations, provide resources & teach healthy coping skills. https://t.co/hnnQAPdqmt

— SPN Survivors (@SPNsurvivors) March 4, 2019
Thanks @BostonDotCom!

We are so grateful to everyone for supporting our cause. 30k, @jarpad? https://t.co/eRigXVo79A

— Genevieve Padalecki (@realGpad) March 8, 2019
Danneel Ackles and Jensen Ackles are being charitable for her birthday.
Jason Manns (and son) made it on to the Daily Click
Thanks for the messages, but it's not me that made it to @TODAYshow I'm just lucky enough to be holding the beatboxing legend when he breaks it down. ? Beatboxing baby drops a beat with dad https://t.co/j9o2oLGSyA via @TODAYshow

— Jason Manns (@jasonmanns) March 4, 2019
Hit 'Next' for more news.
Catching Up With Current and Former BTS Personnel
Here's a sneak peek at Robbie Thompson's new comic
Want a sneaky look?

We've got your back!

Trust us, this is one book you're not gonna want to miss, this #NCBD

Pre-order your copy now! pic.twitter.com/xeKf3OWaQl

— Big Bang Comics (@TheBigBang_) March 2, 2019
Meanwhile, Robbie's Han Solo series is ending.
It's the final issue of #HanSoloImperialCadet. Check out a preview of next week's issue via @AiPT to see what @rthompson1138 Leonard Kirk @doartnow @CoryHamscher @JoeCaramagna Arif Prianto have in store! #StarWarsComics (Cover by @DavidNakayama)https://t.co/tuI7fTaOlU

— Comics With Kenobi (@ComicsWthKenobi) March 8, 2019
You can catch up with Robbie at C2E2
Super excited for @c2e2 in two weeks — I'll be in Artist Alley, table E-11 all weekend.

Hope to see y'all there! pic.twitter.com/QhL0mUONbW

— Robbie Thompson (@rthompson1138) March 7, 2019
More from Robbie Thompson
We're covering @DVPdirect, Ian Bertram, @MDHollingsworth & @adityab's incredible Little Bird for March's @PanelxPanel!

Also featuring @rthompson1138, Henrichon, @barkmouchard, @dearbhlala, and a comic by @olliegerlach & @zoethorogood!

Pre-order here: https://t.co/nBLJjqI8sU pic.twitter.com/DezmLsLPCM

— Hassan Otsmane-Elhaou (@HassanOE) March 7, 2019
Jason Fischer's DemonX can now be found on SeekaTV
New web series - DEMON X
Lilith is the most powerful exorcist in existence. Unbeknownst to her, is Lucifer's grand plan of creating an eternal hell on earth through his son Damien. The only thing standing in their way is his own daughter. @DemonXSeries #seekatv #horror #webseries pic.twitter.com/pO88AdUKJh

— Seeka TV (@SeekaTV) March 6, 2019
The series is screening at the Hollywood Web Festival
Screening at #HollyWeb19 is @demonxseries. This fantasy is written/directed by Jason Fischer, co-directed by Matthew Campbell. Starring Osric Chau & Cassandra Ebner, this series sees the most powerful exorcist on earth face the greatest challenge humanity has ever known. pic.twitter.com/4Wea1jhzFw

— HollyWebFestival (@hollywebfest) March 5, 2019
Eric Kripke's talk at the Toledo Museum is coming up
Hey #SPNFamily, #Clockblockers. I'll be in my hometown in 1 WEEK, March 16, at the @ToledoMuseum. I'll spill exclusive clips & secrets. Come see me. For free! We'll give you the whole seat, but you'll only need THE EDGE. #SPN #Timeless #TheBoys https://t.co/Hx5CaCtsiv

— Eric Kripke (@therealKripke) March 9, 2019
Supernatural won in the Canadagraph Awards
BEST OF TV AWARDS 2018
Results - Favorite TV Program - WINNER

Supernatural @cw_spnhttps://t.co/V9J1rur4HL pic.twitter.com/CrlHkzMIpP

— Canadagraphs Awards (@canadagraphs2) March 3, 2019
Dean won as favorite TV character
BEST OF TV AWARDS 2018
Results - Favorite TV Character - WINNER

Dean Winchester #Supernatural@JensenAckleshttps://t.co/rRcrz2bnBO pic.twitter.com/4loksf0pAu

— Canadagraphs Awards (@canadagraphs2) March 6, 2019
Canadagraphs will continue to announce winners over the next few weeks. We will report any Supernatural winners in the appropriate Weekly World News.
Sam and Cas placed pretty high in the competition.
BEST OF TV AWARDS 2018
Results- Favorite TV Character

4th Sam Winchester #SPN
5th Castiel
6th Angus #MacGyver
6th Oliver Queen/Green #Arrow
8th Felicity Smoak
9th Raymond Reddington #TheBlacklist
10th Selina Kyle #Gotham
11th The Doctor #DoctorWhohttps://t.co/rRcrz2bnBO

— Canadagraphs Awards (@canadagraphs2) March 6, 2019
vicright shared pictures of the cast in various makeups.
Conventions, Cast Appearances and Fandom
"Fandom For Social Good" is coming to @emeraldcitycon 3/16 at 1:30pm ! Join @fangirlingjess & me as we attempt to moderate a panel featuring @charliecapen , @Stands , & @Peeardee that focuses on fandom-based charity work & activism.

— Always Keep Nerd Fighting (@AKNerdFighting) March 5, 2019
The Middle East Film & Comic Con 2019 will host the star of "The Arrow" @MzKatieCassidy
الإعلان عن حضور كايتي كاسيدي، نجمة مسلسل "السهم Arrow " الأمريكي الشهير وأربعة ممثلين معروفين سيقابلون الجماهير في معرض الشرق الأوسط للأفلام والقصص المصورة 2019 المقام شهر أبريل.@MEFCC pic.twitter.com/EAgwYUvF40

— فوربس الشرق الأوسط (@ForbesME) March 2, 2019
Please note that the Tickets for the @jasonmanns & @PaulCarella Spring Tour will go offline on Thursday! So go and get your Tickets now!https://t.co/0nNLWFXAnv

— Rockwood Events (@RockwoodxEvents) March 8, 2019
Want to see more previous news? Checkout all my articles
here
.