Page 2 of 2
Catching Up With Current and Former BTS Personnel
Robbie Thompson's new comic series is coming out!
In stores next week!#MeetTheSkrulls! pic.twitter.com/i9w3Y6BDlg

— Robbie Thompson (@rthompson1138) March 1, 2019
More BTS material from Jason Fischer's DemonX
Even if #stunts arent recognized at the #Oscars tonight, we think stunt people in film deserve ALL THE AWARDS!

And in honor of them tonight, here's a #bts video of what went into the making of one of our stunts. ??

cc @JasonFischer77 @greensman @FCSyndicate #indiefilm pic.twitter.com/sl4XwaVHAN

— DemonX (@DemonXSeries) February 25, 2019
A BTS look at some of the cool VFX / and bloody SPFXMU that went into @DemonXSeries and the hard working artists behind it. ??? @ryan_curtis @PatrickGerber88 @DoogStewart @SPACKLERca @CassandraEbner @CErnstHarth @LSFX_inc @tlindala @anicat @FrostbitePics @theIPF @kirkjaques pic.twitter.com/02M0ms94yc

— Jason Fischer (@JasonFischer77) February 27, 2019
And DemonX is getting in festivals
Super stoked @DemonXSeries is now an OFFICIAL SELECTION of @dieSeriale Webfest in Germany ?? ?? . Pack your lederhosen gang. ✈️ @janlie68 @anicat @SPACKLERca @CassandraEbner @DoogStewart @greensman @OsricChau @PatrickGerber88 @FrostbitePics @IvanHayden @ndylevine @CErnstHarth pic.twitter.com/0ZdY3ibeii

— Jason Fischer (@JasonFischer77) March 2, 2019
Jenny Klein's film Vagabond was screened at the Sedona Film Festival
It's a great week for the @sedonafilmfest - swing by and catch VAGABOND starring the amazing @alainahuffman and moi... this dark tale was written by @jennydelherpes & directed by @nikbaer — https://t.co/mg9Cuty0mk #femalefilmmakerfriday #indiefilmmaker pic.twitter.com/DkLy0frIsb

— Britt George (@IAmBrittGeorge) March 1, 2019
Conventions, Cast Appearances and Fandom
Can't make it to a convention? You can stream ChiCon!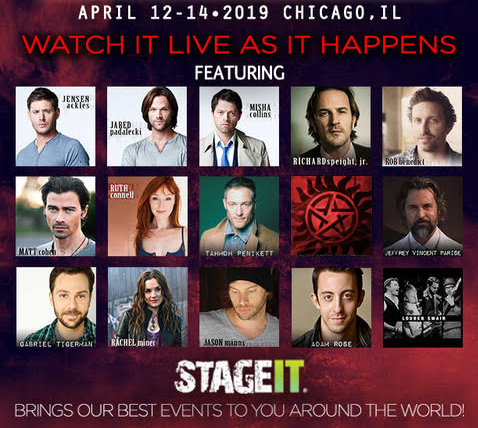 Updated convention schedule for the year if anyone wants to come say hi! Thanks @rocket_soup for the list! You are more organized than I! #greatmods pic.twitter.com/LM0soZXw5c

— Felicia Day (@feliciaday) February 25, 2019
Catch @feliciaday and @OsricChau at @MCMComicCon in Birmingham, England next month! https://t.co/ywbI6IRyzB

— Supernatural Fan Coalition (@SPNFanCoalition) February 26, 2019
We'll be performing at @KAABOOTexas on Sat. May 11 in Arlington, TX! https://t.co/qMsCXN2sf1 pic.twitter.com/xccfFvfdqW

— Rick Springfield (@rickspringfield) February 28, 2019
Want to see more previous news? Checkout all my articles
here
.