Page 2 of 2
Catching Up With Current and Former BTS Personnel
Robbie Thompson's new comic will be released next week.
Out next week!

Find out more about young Han's er, solo years in STAR WARS HAN SOLO: IMPERIAL CADET #1!

By @rthompson1138, #LeonardKirk, #ArifPrianto and @JoeCaramagna!

Cover by @DavidNakayama! pic.twitter.com/lTzMKAMPrP

— Big Bang Comics (@TheBigBang_) November 2, 2018
Nichole Snynder and Eric Charmello's Midnight Texas was on Friday November 2.
I think my friends (& former SPN writer/producers) @NicoleASnyder & @charmzies broke the space-time continuum: tonight at 9/8C, it will actually be Midnight, TX time!

(Tune in to their show, @NBCMidnightTX Fridays at 9/8 C on NBC)! pic.twitter.com/ver4hZQaZK

— Misha Collins (@mishacollins) November 2, 2018
See Jason Fischer talk about his new series DemonX
Thanks to
Noah
for the links to these quizzes
The new Supernatural novel is now available.
SUPERNATURAL: JOYRIDE, my 4th original #SPN tie-in novel is FINALLY here #SPNFamily - Check it out & pls RT for signal boost. Thanks! https://t.co/9cvDwxHXiM

— John Passarella (@JohnPassarella) October 30, 2018
Sam Winchester is included in MsMojo's Top 10 Unlucky in Love TV Characters
This December fans in New York will be able to see Jenny Klein's short film, The Last Meal starring Sebastian Roche.
Honored #LASTMEALfilm will be in the very rad @NYCHorrorFest, Sunday, Dec. 2nd @ 6pm! Come greet our gristle!! Starring @sebroche @AliciaHannah @burke_reilly @degreesofkelvin @tomlenk ?? Written&produced by @jennydelherpes Directed by @Lulaabellee #femalefilmmakers #indiefilm pic.twitter.com/n0DCGD1l9i

— Last Meal (@lastmealshort) October 30, 2018
Conventions, Cast Appearances and Fandom
They are also running a raffle to help Always Keep Fighting
? WIN AN AUTOGRAPHED AKF-AIR TEXAS STRONG SHIRT ?
signed by
* @jarpad * @mishacollins * @Mark_Sheppard * @GilMcKinney * @JulianRichings * @AlainaHuffman * @dicksp8jr * @mattcohen4real

Profits to benefit @AttitudesInRev!!

Purchase your $1 raffle now! https://t.co/uxKTiXXIlN pic.twitter.com/QKeuV3sosV

— SPN Quiz Bowl (@spn_quiz_bowl) October 30, 2018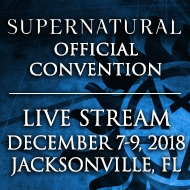 Our Wednesday has a new podcast up.
@WinFamBusiness @hwy2hellpodcast #Supernatural 3:08 "A Very Supernatural Christmas" Pour yourself an eggnog with some kick and listen to Highway 2 Hell's reactions to this classic. https://t.co/x4dx62UiEy ?[gif: welovehaehyuk] pic.twitter.com/ie4kAmArW1

— WEDNESDAYspn (@WEDNESDAYspn) October 24, 2018
NEW MEDIA GUEST #WCC2018 - Sebastian Roché #Supernatural #TheVampireDiaries #TheOriginals #OnceUponATime #TheManInTheHighCastle pic.twitter.com/TKZxscKCic

— Wales Comic Con (@walescomiccon) October 31, 2018
I'll be performing my hits & more on Feb 9 at the @SabanTheatre in Beverly Hills accompanied by a full symphonic orchestra! We'll be celebrating the release of my forthcoming symphonic album of hits & new songs! On sale now at https://t.co/7Lz3n7yhrK
?800-745-3000 pic.twitter.com/aKaJaHr5Hl

— Rick Springfield (@rickspringfield) October 26, 2018
Want to see more previous news and spoilers? Checkout all my articles
here
.