Supernatural in the news this week.
Catching Up With Current and Former Cast Members
Rick Springfield (Lucifer/Vince Vincente) has been interviewed while promoting his new album, The Snake King.
Rick Springfield live at Paste Studio NYC
SiriusXM also talked with Rick
Thank you @rickspringfield hanging out on #Debatable! If you missed it check it out On Demand on the @siriusxmvolume App!

The Snake King out January 26th! pic.twitter.com/DoD2rY5LHg

— SiriusXM VOLUME (@siriusxmvolume) January 9, 2018
Rick also shared a clip from one of his new singles
A little taste of "Little Demon" off the new record The Snake King. The Snake King rises January 26. Link to download the track and preorder the album: https://t.co/lozP7p9odn pic.twitter.com/16vZVBCmB2

— Rick Springfield (@rickspringfield) January 12, 2018
Genevieve Padalecki did a live stream with her husband Jared this week.
The trailer for Blockers, a new film with Kathryn Newton (Claire Novak), has been released
Mark Pelligrino (Lucifer) is in the movie Beruit, which has just released a trailer.
More on Sebastian Roché's (Balthazar) new project,
Genius
, at
Vanity Fair
.
Gabriel Tigerman (Andy) has two new commercials
Shoshannah Stern's Eileen Leahy) new project This Close is getting acclaim. It was mentioned in
Adam Glass's (former writer for Supernatural) show The Chi was also included iin the Daily Dot article.
Lindsey McKeon (Tessa the Reaper) is raising money for Camp Kesem
Check Out This Bracelet I Designed 2 Support @CampKesem !! 50% of proceeds help support this cause! Get Yours NOW! https://t.co/f2sb11UmLi @shoplacle #refocus #inspiration #design #Repost #RT pic.twitter.com/t15jS4xPrW

— Lindsey McKeon (@MyLindseyMcKeon) January 5, 2018
The cast and crew of Supernatural made a welcome donation to Canuck Place, a children's hospice
Canuck Place Children's Hospice is BC's pediatric palliative care provider,delivering care to 715 children and families across the province.
We received a delightful donation of over $9500 & a new camera from the cast & crew of @CW_SPN! Some of the cast even tested out the camera for us ;) Thank you @RandomActsOrg @JensenAckles @mishacollins @DanneelHarris and the whole #Supernatural crew! pic.twitter.com/7x5ypjbiHi

— Canuck Place (@CanuckPlace) January 12, 2018
Samantha Smith (Mary Winchester) is on the cover of New Mexico Entertainment Magazine for January.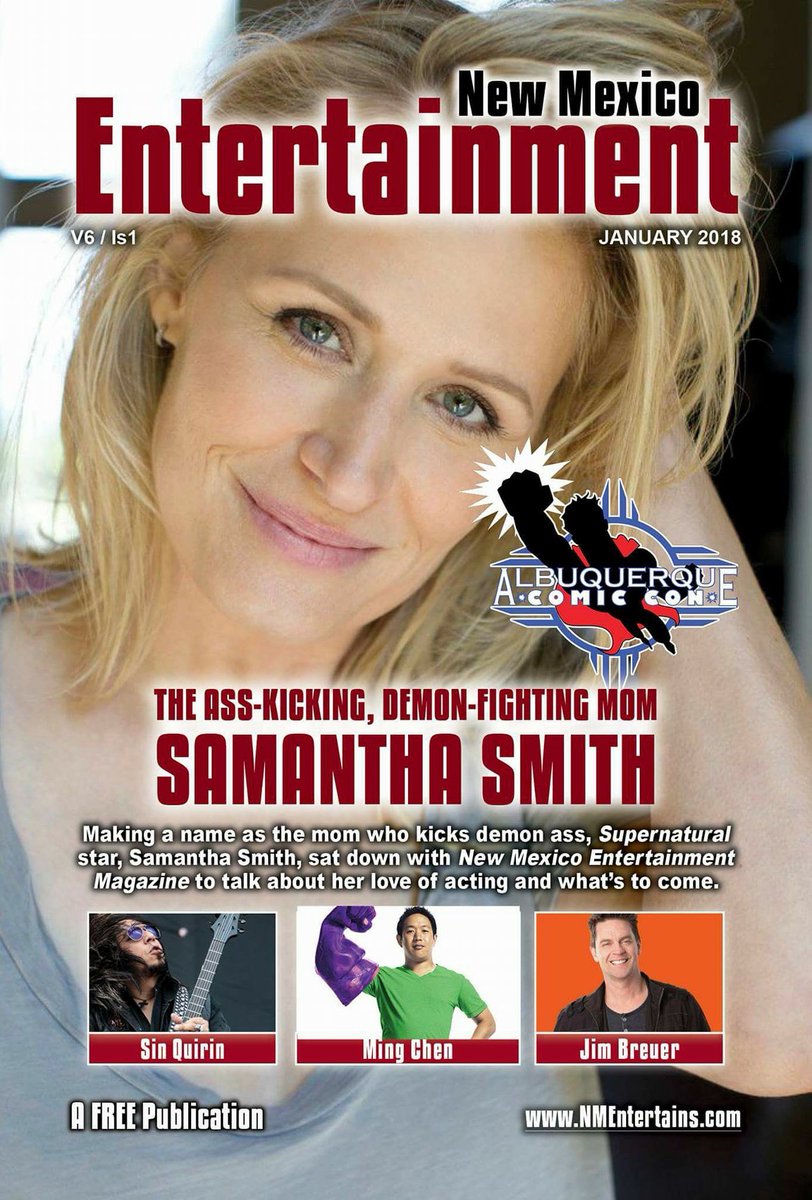 Hit 'Next' for more news.
Catching Up With Current and Former BTS Personnel
Ben Edlund announced the return of his series The Tick.
At long last, again hello! #TheTick returns Feb 23rd with the rest of season 1, six new @TheTickTV episodes fraught with fun and fashioned for your fancy! LOOKIT: https://t.co/rDBCG03uUP

— ben_edlund (@ben_edlund) January 10, 2018
Conventions, Cast Appearances and Fandom
One of our family is going to the Olympics!
THIS TEENAGED SUPERNATURAL FAN JUST WON THE TOP SPOT IN US WOMEN'S FIGURE SKATING AND SHE WILL BE REPRESENTING US AT THE OLYMPICS pic.twitter.com/LKKiTU0FYb

— Exorcising Emily (@exorcisingemily) January 6, 2018
Eric Kripke tweeted
Guys! @bradie_tennell, a member of the #spnfamily, just won the slot of top figure skater in the U.S. & is representing us in the Olympics. Bradie, DM me, and we'll get you ALL THE SWAG for luck. CONGRATS. @JensenAckles @jarpad @mishacollins @andrewdabb

— Eric Kripke (@therealKripke) January 7, 2018
Fans in San Francisco and see Rob Benedict
Guys!!! Please join us in San Francisco! https://t.co/pOvvEgFZ89 pic.twitter.com/Q2H7waiPa3

— paget brewster (@pagetpaget) January 9, 2018
Don't forget, The Wayward Sisters are coming to Birmingham! Kim Rhodes & Katherine Ramdeen are joining us at Cross Roads in May! Don't miss out on one of the largest gatherings of Supernatural cast at an event in 2018!https://t.co/AQvyIeXuIN#spnuk #spnfamily #supernatural #spn pic.twitter.com/tp53p8bN26

— Starfury Conventions (@starfuryevents) January 12, 2018
DJ Qualls is awesome in The Man In The High Castle
He is awesome in Z Nation
He is awesome in Supernatural
He will be awesome at Cross Roads next May!https://t.co/AQvyIeXuIN#SPNUK #SPNFamily #spn #Supernatural #DJQualls pic.twitter.com/T5m7O8uBwY

— Starfury Conventions (@starfuryevents) January 8, 2018
Just added a @Stageit show w/@jasonmanns to our upcoming trip to Atlanta next week! Sunday, Jan 14th at noon EST. Get your ticket here: https://t.co/GnMyWb790j

— Louden Swain (@LoudenSwain1) January 7, 2018
Mark Sheppard is touring with Robyn Hitchcock and we have tour dates
JANUARY 12, 13, 14 - 30A Songwriters Festival​ FLA
JANUARY 19 - ATHENS GA with Elf Power​ & Camper Van Beethoven​
FEBRUARY 14 - City Vineyard by City Winery NYC​ (solo acoustic Valentine's Day extravaganza) 100 tickets only
FEBRUARY 17 - Firehouse Arts Center​ Newburyport MA SOLD OUT
FEBRUARY 18 - CAFE 9 New Haven CT SOLD OUT
APRIL 7 - Irvington Town Hall Theater​, Irvington NY (solo acoustic)
APRIL 25- Turf Club, St Paul MN (full band show)
APRIL 26 - Turf Club, St Paul MN (full band show)
APRIL 27 - Underground Arts​ Philadelphia PA (full band show)
APRIL 28 - The Lincoln Theatre​ Washington D.C. (full band show)
MAY 11, 2018 Club Academy, Manchester, England
MAY 12, 2018 ULU Live at Student Central, London
Rick Springfield continues to tour. Shows and ticket information
here
.