Page 1 of 2
Supernatural around the web this week.
Catching Up With Current and Former Cast Members
In happier news, Jim is preparing to star in a new play.
If you want to check it out.
Good news everyone! One of the most original and weirdest shows in television history is coming out to #Netflix! Mark it down on your calendars, you can watch the craziness that is @DirkGentlyBBCA on Netflix come January 5!? pic.twitter.com/BFdjoDFe99

— Osric Chau (@OsricChau) December 18, 2017
Richard Speight, Jr. (The Trickster/Gabriel) is trying to raise money for his
new project Driven
.
I joined the cast of this cool indie film because the people behind it, Glenn & Casey, are focused & creative. I look forward to working with them to get this story told and their talents out there. https://t.co/xqrVgFBDtZ

— Richard Speight, Jr. (@dicksp8jr) December 20, 2017
We need your HELP making our movie top notch! Contribute for fun perks! https://t.co/o8TXjZhgDu starring @dicksp8jr #spnfamily #spn #indie pic.twitter.com/rfyn61z98W

— Glenn Payne (@artistgp2) December 20, 2017
Kim Rhodes (Jody Mills) wrote the foreward to a new book of Supernatural poems.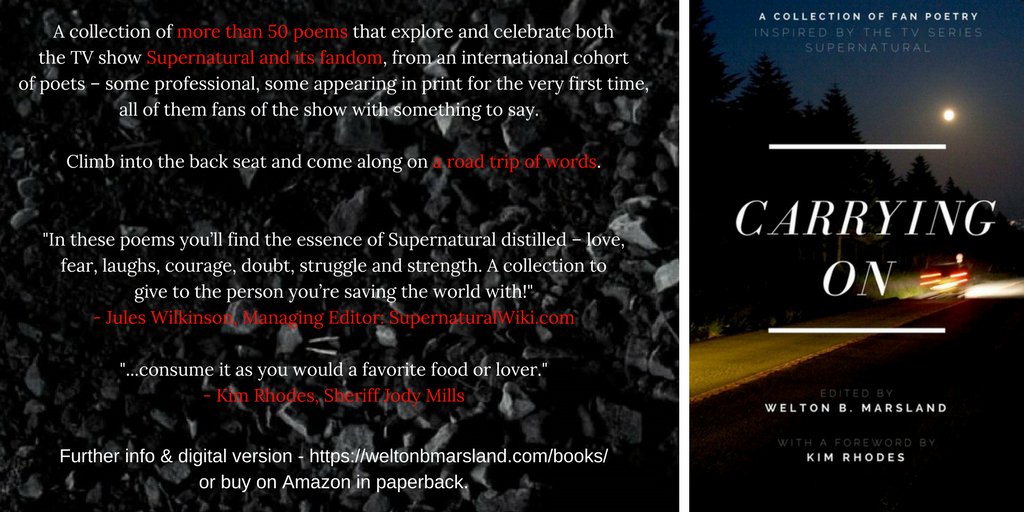 Jared Padalecki and Jensen Ackles made the cover of Entertainment Weekly
Here's to the year of #WonderWoman, #ITMovie, #GetOut, #BigLittleLies, and more!
Take a look back at the pop culture that awed, angered, delighted, and inspired us in 2017: https://t.co/KqLtfl5Y3T #BestAndWorst2017 pic.twitter.com/A7BeIFairf

— Entertainment Weekly (@EW) December 21, 2017
AngiePangiPanic helps us find them
December 21, 2017
Hit 'Next' for more news.