Page 1 of 2
Supernatural in the news this week!
Catching Up With Current and Former Cast and Crew
You can listen to a Curtis Armstrong (Metatron) Interview at
Geek Versus
Week
podcast #127
Popcorn Talk interviewed Tim Omundson (Cain)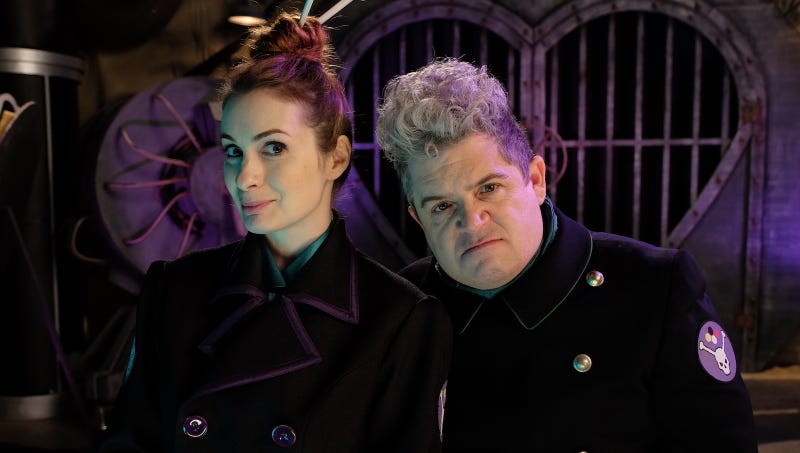 Mr. Ketch was popular this week. We have several interviews with David Hayden-Jones.
Jeffrey Dean Morgan (John Winchester) and his wife are helping to renovate Astor Services for Children in Rhinebeck. He has been interviewed in several publications about this project.
Ty Olsson (Benny Lafite) Tweeted
Trailer for this short film I'm super proud to be a part of https://t.co/eBGpDsZAUt via @youtube

— Ty Olsson (@TyOlsson) April 13, 2017
You can also read about Ty's earlier carreer as a bouncer
NOW AVAILABLE! (coming soon to int'l Amazon sites) https://t.co/iftzwnwsKy

— WhenWeWereBouncers (@FamousBouncers) April 11, 2017
Kett Turton ( Alton Morehead(The Raid) / Max Jaffe (Phantom Traveler) made a splash on IZombie
Big shout out to @kettturton who stole the scene??(when he walked in the morgue I know U were all ?) #KettTurton @CWiZombie @iZombieWriters pic.twitter.com/3RP0TyFwsT

— Kett Turton Source (@KettTurtonSourc) April 12, 2017
Sebastian Roche (Balthazar) is in a new indie film Negative
Here's the first trailer for NEGATIVE, starring @katia_winter, Simon Quarterman and Sebastian Roche! https://t.co/25f8wj7uVF #indiefilm

— Joshua Caldwell (@Joshua_Caldwell) April 13, 2017
Tim Omundson (Cain) was in the season premiere of Angie Tribeca
Tune in tonight and you may see more of me than you ever cared to. ?
Don't say you weren't warned. https://t.co/gx6DDaWQyE

— Timothy Omundson (@Omundson) April 10, 2017
A.J.Buckley's (Ed Zeddmore) new series Pure has been acquired by Hulu
I'm proud of us... #PureSeries #PureOnHulu https://t.co/HZh6vIUKit

— Ryan Robbins (@RyRobbins) April 12, 2017
Theo Devaney (Gavin McLeod) is preparing for a new role
Piotr @loveanddye getting me ready 1940's style for period crime drama "Once Upon a Time in London", the next 2 weeks @gatewayfilms #Film pic.twitter.com/xQ9mq5X3IJ

— Theo Devaney (@TheoDevaney) April 11, 2017
Felicia Day's series MST3K is finally available on Netflix
At 12:01 AM Pacific Time TONIGHT, the vault opens and #MST3K Season 11 is officially yours for the watching! We. Cannot. Wait. pic.twitter.com/7cwbhD1Mtc

— #MST3K (@MST3K) April 13, 2017
Mitch Peleggi (Samuel Campbell) can be heard on the X-Files audio books available at Audible.com
The truth is out there. You just have to listen. #istillwanttobelieve https://t.co/jsjiHWc2Sl pic.twitter.com/eP7I7p3vhJ

— Audible (@audible_com) April 10, 2017