Page 1 of 2
Supernatural around the Web, this week.
Catching Up With Current and Former Cast Members
MovieTVTechGeeks News interviewed our guest stars
Julian Richings (Death) took part in a Christmas celebration
Dec 15-17, 2016, 8PM

TO ALL A GOOD NIGHT 2

In the second edition of our alternative to the standard Christmas concert fare, we've assembled a program that charms and delights, no matter which holiday you celebrate.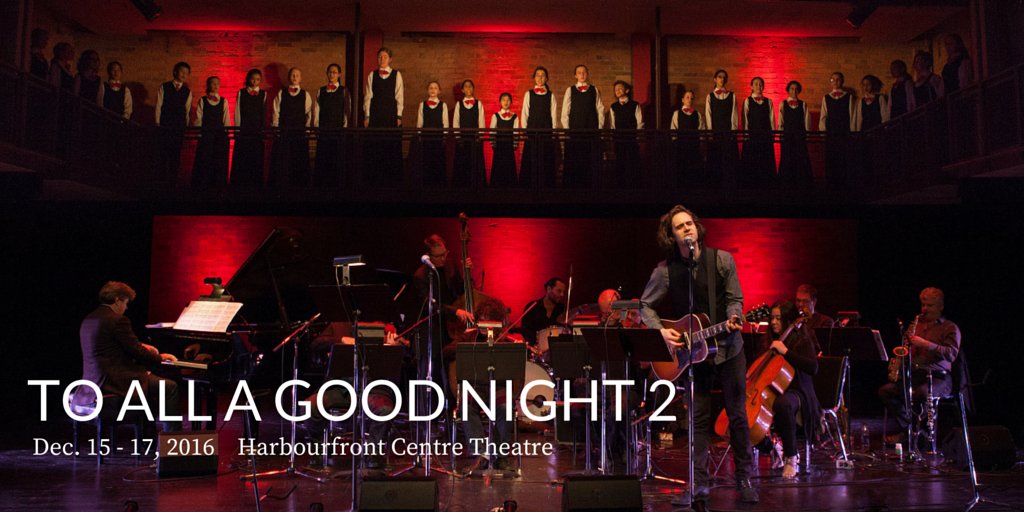 Delighted to be a part of this @artoftime evening. Tonight and tomorrow! https://t.co/VzgUDWoHvG

— Julian Richings (@JulianRichings) December 16, 2016
Tahmoh Pennikett will be part of season 2 of Nathan Fillion's Con Man. He briefly appears in the new trailer
Con Man Season 2 Features a Battlestar Alum and Nathan Fillion's Bald Head https://t.co/BuZDfj44jk via @outerplaces

— Tahmoh's Tribe (@TahmohsTribe) December 16, 2016
Story also reported
here.
The trailer for Ty Olsson's (Eli- Bloodlust, Benny Lafitte) movie War For The Planet Of the Apes has been released
War for the Planet of the Apes - Official Trailer #1 [HD] https://t.co/BHmKXrZAsW

— Ty Olsson (@TyOlsson) December 10, 2016
Colin Lawrence (Dr. Gregory Marion, Keep Calm and Carry On / Reggie Hull, Free To Be You and Me / Jason, Faith) shared the trailer for his new movie 50 Shades Darker
Some of my best work.....don't blink......really. https://t.co/1j6mH9qewN

— Colin Lawrence (@colinlawrence97) December 11, 2016
Canadians will be able to see Tyler Johnston's (Matt - Bugs, Samandriel) series Shut Eye.
Canadians! #ShutEye will soon be available on @CraveTVCanada! American pals can still stream away w/ @shuteyeonhulu. https://t.co/GF4XGfzjAo

— Tyler Johnston (@tylerjbjohnston) December 14, 2016
Felicia Day (Charlie Bradbury) has a role in the December 18 episode of The Librarians
Special guest stars @SeanAstin and @FeliciaDay join the team in a house of horrors this Sunday on #TheLibrarians. Only clowns would miss it! pic.twitter.com/AkyDqO0vj2

— The Librarians (@LibrariansTNT) December 14, 2016
We are getting closer to seeing Kathryn Newton's (Claire Novak) new project
SAI client, @KathrynLNewton is part of the all-star cast of "Big Little Lies", coming to @HBO in February. https://t.co/ihvZNG0vAV pic.twitter.com/edlRoMiYsv

— Simply Acting Inc. (@SimplyActing) December 10, 2016
Matt Cohen (Young John Winchester) is about to make his first appearance on Criminal Minds: Beyond Borders.
First Air Date Set for Matt Cohen on 'Criminal Minds: Beyond Borders' https://t.co/z8RdfYALYp #GH #CMBB @mattcohen4real pic.twitter.com/zGSMb7XOaD

— Serial Scoop (@SerialScoop) December 15, 2016
Two of our former stars, DJ Qualls (Garth) and Sebastian Roche (Balthazar) are starring in season 2 of The Man From The High Castle, now available on Netflix.
'High Castle' star: Nazi father (@sebroche of "The Originals") figures in new season via @NYPost

https://t.co/ssjGF9WEMb

— Alan R. Weaver (@alanrweaver) December 16, 2016
.@sebroche at the season 2 premiere of @HighCastleTV. Premieres this Friday 12/16 on @AmazonVideo! pic.twitter.com/tNa7chDfDl

— NMA PR (@NMAPR) December 13, 2016
You people are too talented. TIME FOR A CHALLENGE! B4 next Tues - your best holiday-themed-KOC fan art! This email address is being protected from spambots. You need JavaScript enabled to view it.! Go! pic.twitter.com/icqKDaNGeb

— Kings of Con (@KingsOfCon) December 14, 2016
Louden Swain and Station Breaks
We've got a brand new, redesigned website! Check it out! https://t.co/9gcd5dw1ok #spnfamily pic.twitter.com/HddBy1YidC

— Louden Swain (@LoudenSwain1) December 13, 2016
Special announcement on @Tumblr now! https://t.co/AK8EAb3Tnt
If you're not following us there, do it now! #spnfamily #NoTimeLikeThePresent

— Louden Swain (@LoudenSwain1) December 15, 2016
#MusicMonday The 9th song from "No Time Like The Present" is "This Is How". Listen&Share! PreOrder @itunes & @Amazon https://t.co/xYt7KcEPnf

— Louden Swain (@LoudenSwain1) December 12, 2016
New Year's party, pft! U'll think it's 2017 after U attend the best night of ? w/@StationBreaks & an all ? ensemble https://t.co/OQLvfe8Bl3 pic.twitter.com/e01DU0VfD6

— Soliloquywriter (@SoliloquyWriter) December 15, 2016
Hit "Next" for more news

.